Overnight Accommodations for Your Best Friend
The Ultimate
Dog Boarding Experience
The Petropolitan Downtown offers modern, 5-star luxury overnight accommodations and amenities for your best friend while you're away. Our accommodations feature our signature modern styling, furnishings that provide a "just like home" feel, and a fresh, relaxing colour palette; we've created the ultimate overnight care experience for your pet!
Our goal is to create an environment that's just as comfortable for your pet as being at home with you. At The Pet, we've fashioned a high-end, luxury environment that provides a relaxing, clean, safe and fun environment for your pet while you're vacationing or working.
Spay / Neuter Policy: Dogs must be spayed/neutered over 9 months of age to participate in group play with other guests. We welcome intact guests and those that prefer their own company for an additional $10 per day; they are provided personal care services with lots of exercise and engagement with our team of pet care providers.
Peak Season Policy: We do not accept first-time guests over busy travel periods. Your pet must enjoy a short trial stay before making a reservation during a peak period. We have a 5-night minimum during peak travel periods (winter holidays, spring break, and summer holidays).
Register and Reserve Today!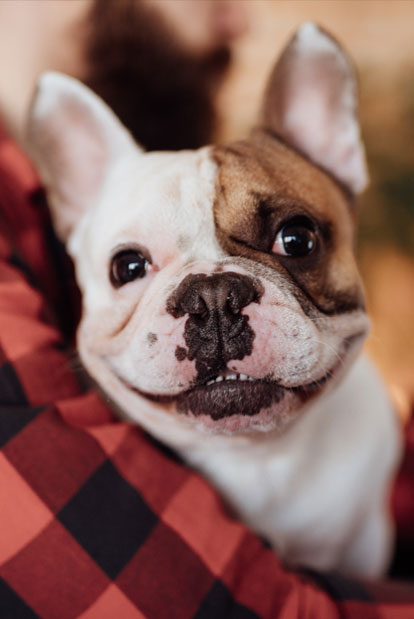 At The Petropolitan, we don't believe in a one-size-fits-all approach. Our model allows you to customize your pet's experience while in our care, as the needs of our guests vary! You can choose from Standard Nightly Boarding or customize your pet's stay with a selection of accommodations and activities for dogs of all ages, temperaments, and sizes.
Customized Boarding Experience: Choose between The Petropolitan's two levels of overnight accommodations for our canine guests; Condos and Suites, and a level of activity that best suits your best friend based on the amount of exercise and activity they enjoy at home!
An overnight stay for your dog includes 3 leashed walks, daily meals, and premium bedding with fresh linens and room service every day.
Luggage & Personal Belongings
At The Petropolitan, we make every effort to keep things as easy as possible for you in preparation for your trip!
Please limit your pet's personal belongings to essential food, medications, leashes, and collars. Your pet will receive fresh room service and bedding each day. We sanitize all toys, bedding, and equipment daily for the well-being of our guests.
Any medications your pet requires while in our care are subject to a $1.00 per administration fee.
It's impossible for our team to know the condition of every item that clients bring into care, so while we appreciate your desire to bring all of your pet's favourite belongings, we don't want to be left wondering if your pet ingested anything they brought from home or have any of your favourite belongings lost, left behind or damaged.
Condos: Our basic, single occupancy accommodation for dogs.

Small (up to 20 lbs) $37.00 per night
Medium (20-40 lbs) $42.00 per night
Large (40+ lbs) $50.00 per night

Suites: Our highest level of overnight accommodation provides a "just like home" feel, complete with a double bed, freshly laundered linens, side tables, lamps, television, radio, electric fireplace, and all the furnishings we can provide that help your pet feel right at home in our care.
Please note that suites are based on suitability and availability. Pets who engage in destructive or restless behaviours in our Suites will be moved to a Condo for the remainder of their stay for their safety and comfort.
Simple medication administration included; additional fees may apply.
Pricing is per dog, per night.
More than one pet? Save 10% with our multi-pet discount! We are happy to accommodate requests to board dogs from the same home together!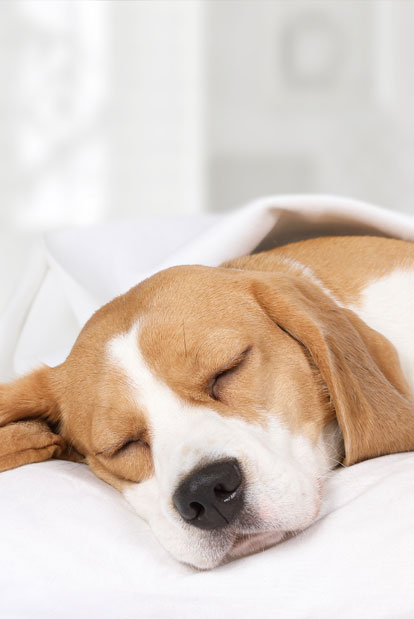 Register and Reserve Today!
Customize your dog's overnight stay with a daily activity package they'll love based on their favorite activities at home! Our activity packages can be provided to both dogs who enjoy group play or those who prefer their own company. Dogs over 9 months of age must be spayed/neutered to participate in group play.
At The Petropolitan, we know no two dogs are the same and each pet's needs are unique! You can choose from:
The Gold Package: $28.00 per day

2 group play sessions (one session in the morning and one in the afternoon)
1 late-night stroll after dinner
One-on-one cuddles before bedtime
A seasonal, gourmet treat daily
Premium bedding upgrade

The Silver Package: $22.00 per day
The Bronze Package: $17.00 per day

1 group play session (one session in the morning)
The TLC Package (Seniors): $26.00 per day

2 group play or 2 personal activity sessions
A seasonal, gourmet treat daily
A one-on-one cuddle session before bedtime
Orthopedic bedding
Unlimited medication administrations

The Puppy Package (up to 5 months): $26.00 per day

2 group play sessions
Extra bathroom breaks
A seasonal, gourmet treat daily
A one-on-one cuddle session before bedtime
All activity packages can be converted to Personal Activity Sessions for intact guests over 9 months of age or those who prefer their own company for an additional $10.00 per day.
Activity packages are charged per day, per dog, in addition to your choice of nightly accommodation (condo or suite).
Spay/Neuter Policy: Dogs must be spayed/neutered at 9 months to participate in group play activities.
Overnight boarding is offered at our Downtown location only.
Healthy and delicious edible add-on items for our guests, now available!
Choose from a variety of tasty treats, in a perfect snack-size portion.
Power Bowls | $6.00
With chicken, fish, or vegetarian options to choose from, we've got something for every palate and dietary need. Every bowl is made fresh daily and includes rice and vegetables mixed with your choice of protein.
Stuffed Kongs | $4.00
Choose from the classic dog-loving choices of peanut butter or pumpkin, this afternoon treat will engage your dog mentally, providing them with a bit of a puzzle and fun.
Seasonal Gourmet Treat | $3.00
Enjoy a fresh, seasonal treat each month with our rotating menu! Past treats include Cinco de Mayo Fish Tacos, Eggs & Beggin', and Shamrock Shakes! Ask us what's on the menu now.
Pooch Pops | $3.00
A lovely summertime treat! These frozen popsicles are made with healthy, dog-friendly ingredients and are a great addition to your dog's midday break.
All Gold, TLC, or Puppy activity package guests enjoy a complimentary Seasonal Gourmet Treat daily. All guests are welcome to add any Snack Stand item to their stay!